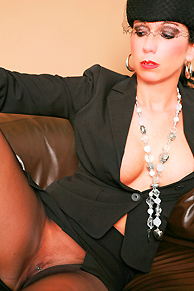 Renate
My name is Renate (for all those of you that might have overlooked this up until now…). I would describe myself as a tolerant, happy and open minded young woman. At the same time I am eccentric, moody and I like to dominate. Do not get me wrong, though, I am NOT a professional mistress.
I love extravagant, feminine fashion. I probably differ from many other women in the respect that I love provocative clothing not only on the catwalk, in films or on photos, I also love to wear sexy clothes myself. High heels as well as leather, latex, nylon pantyhose and lingerie are my all time favorites.
My love for fetish wear is not restricted to my home as I also like to wear my fetish clothes in public. My lifestyle allows me to show myself wearing provocative leather outfits in public. Some servile and generous men who know how to please a woman marvel at my extravagant appearance and they accompany and entertain me from time to time.